It could get hot out there…
CERN implements an Organization-wide heatwave action plan
Heatwaves have become increasingly common at our latitude in the past few years. Recent trends show that heatwaves are now more frequent and more intense: it is no longer a matter of 'if' we will have one, but rather when it will occur, how hot it will be and how long it will last.
Heat may have an adverse impact on our health and work. A rapid rise in ambient temperature compromises the body's ability to auto-regulate its own temperature and metabolic processes. Heat can cause dizziness and headaches, a sore throat, cramps, dehydration, exhaustion and changes in our behaviour.
The majority of these adverse health effects generally occur when the average temperature over 24 hours is high (above 25oC) and remains high for several consecutive days. Such a meteorological context is the first indicator that a heatwave might be around the corner: MeteoSwiss declares a heatwave when average temperatures exceeding 25oC are forecast for at least three consecutive days. This is also the context in which CERN would implement its new "heatwave action plan", as described below. For reference, if this plan had been in place in 2022, it would have been triggered three times for a total of 16 calendar days.
In addition to individual measures that are communicated during the heat awareness campaigns organised by HSE (see below*), CERN has developed an Organization-wide heatwave action plan consisting of a set of preventive and corrective measures designed to mitigate the effects of sustained high temperatures on its personnel during a heatwave. They will only apply during heatwave periods defined according to official meteorological forecasts, which are monitored closely by the HSE unit, and when deemed compatible with the needs of individual services.
During a heatwave period, personnel will be offered the option of specific flexible measures, such as the possibility of extended teleworking (under OC 7 per chapter II. 7 – heatwaves will be considered a "specific circumstance"), as well as possible adjustments to the eight-hour working day between 7 a.m. and 8 p.m. (excluding shift work provisions). Hourly recuperation and hydration breaks may also be organised. These measures will of course be discussed with or defined by supervisors, depending on the individuals concerned, the workplace context and the activity.
Furthermore, the main air-conditioned (A/C) and ventilated auditoriums and meeting rooms may be booked in the afternoons to provide temporary space for office-related tasks. Installation on a large scale of A/C is not planned, given legal constraints but also environmental considerations (A/C units lead to increased energy consumption and greenhouse gas emissions), as well as health and safety issues.
The activation and end of the heatwave action plan will be announced on the home.cern and hse.cern websites, as well as on posters displayed on restaurant screens and in messages on the site entrance screens.
All details on the plan can be found on hse.cern/hwap.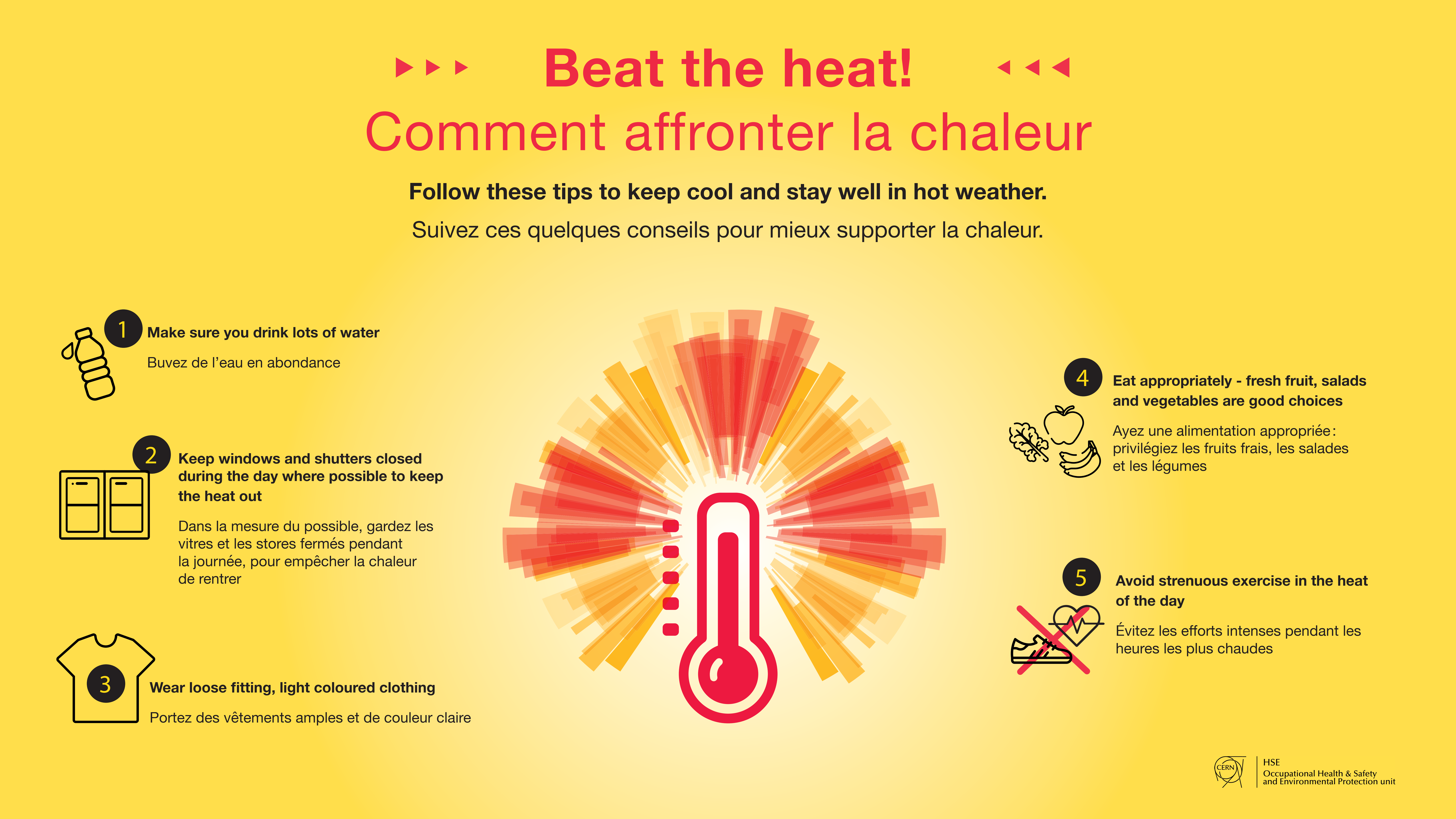 How to beat the heat
We all feel the heat differently. Whenever high temperatures in the work environment become difficult to bear, the following tips can help avoid unpleasant symptoms:
keep windows and blinds closed during the day;
use an office fan;
hydrate yourself regularly;
take regular breaks;
seek a cooler environment, if possible. The maximum difference in temperature between indoor and ambient (outdoor) conditions should not exceed 8oC;
keep heavy physical tasks to the minimum during the warmest hours, and wear light clothing, if compatible with your work.
When working outside, wear sunglasses, sunscreen and appropriate clothing.
If you are pregnant or breastfeeding or suffer from a chronic illness, we advise you to consult your doctor to define any additional measures that may be appropriate.
News
General