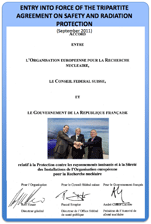 In November 2010 CERN and its Host States, France and Switzerland, signed a tripartite agreement that replaced existing bilateral agreements in matters of radiation protection and radiation safety at CERN. This treaty has entered into force in September 2011.  
Accord radioprotection (in French).
It creates a legal framework to discuss how the common objective of protecting people working on site and the public against ionizing radiation can best be achieved in the context of CERN.
The subjects discussed within the framework of the tripartite agreement on radiation protection and radiation safety concern:
the management and disposal of radioactive waste,
the inter site transport of radioactive materials,
the export/ import and handling of radioactive materials,
dosimetrie, and
environmental monitoring.
CERN has further committed itself to submit to the host states for « homologation » :
its internal rules regarding radiation protection and radiation safety,
its radioactive waste study,
Safety files for new installations or major modifications of existing installations.
The agreement foresees regular technical meetings, as well as high-level plenary meetings, chaired by CERNs Director of Accelerators.
It further allows the competent host states authorities to carry out, in agreement and collaboration with CERN, joint inspection visits on specific subjects.
The implementation of the tripartite agreement is steered by the HSE unit in close collaboration with the Departments concerned (in particular the A&T sector).
The host states are represented by the Swiss Federal Office for Public Health, OFSP, and the French Nuclear Authority, ASN.
The tripartite process is ongoing and working well. It concerns not only HSE, but the whole of CERN.
Keeping CERN in line with standard best practice in the host states and Europe in matters of radiation protection and radiation safety is a continuous effort but is part of responsible governance and of the Organization's policy of excellence.
If you would like to know more about the RP/RS tripartite agreement please contact