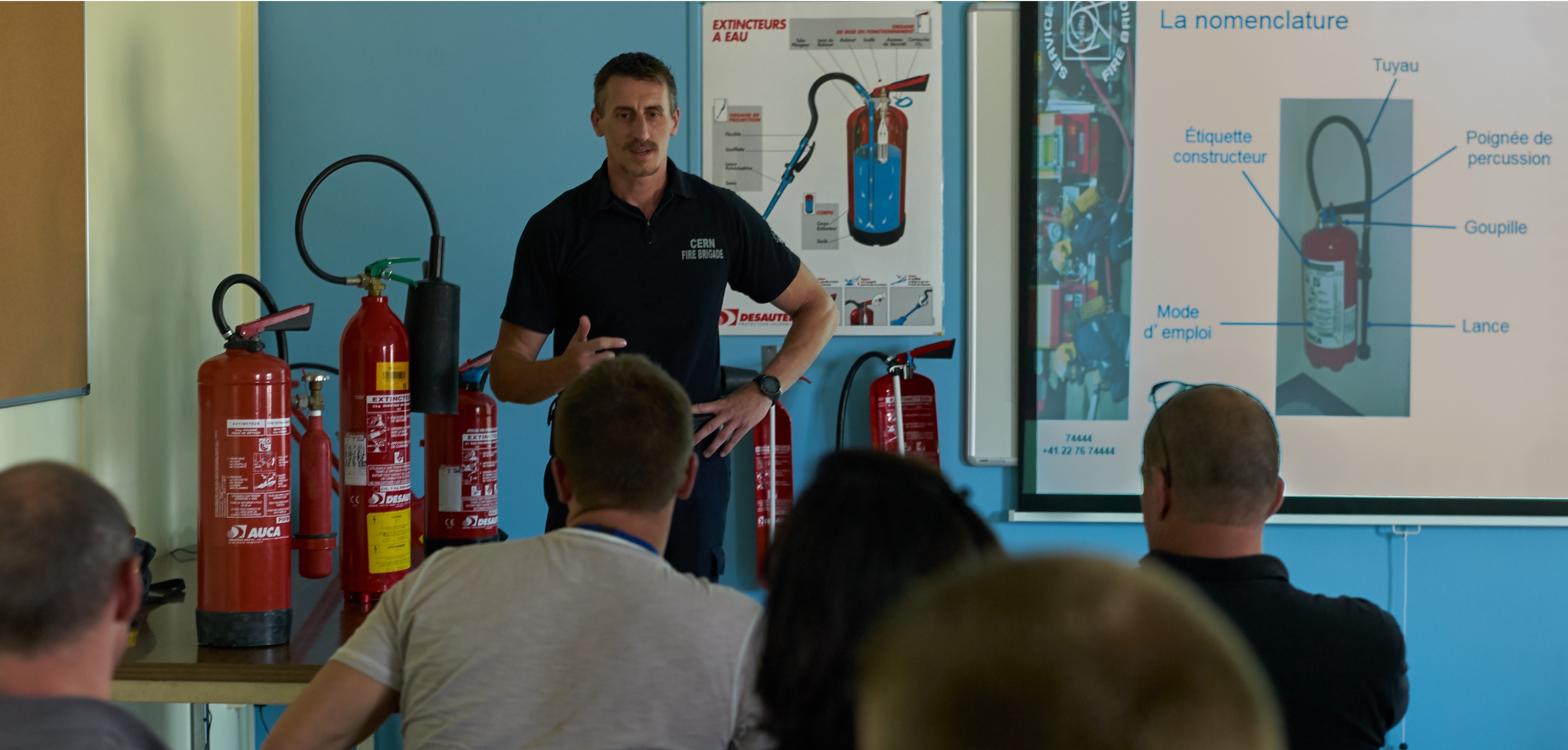 In many cases, Fire Service interventions could have been prevented or at least minimized by taking some precautions or preventive measures. The first action to prevent a fire is to realize that under certain circumstances anywhere at anytime a fire could develop.
With our Fire Safety Management, the risks can be reduced significantly and the potential effects of fire can be minimized. We provide fire safety support to the community of CERN to ensure you undertake the right measurements. It is very easy to become complacent about basic fire safety management when you have a whole myriad of tasks and pressures needing attention. However, by accepting poor practices, a small fire could potentially grow substantially and quickly spread through the building and become untenable. In many cases, such a fire will endanger business continuity and core activities at CERN.
We perform regular safety checks and maintain all first aid and firefighting equipment within CERN. This ensures that they are ready to use in the event of a fire before we arrive.
We strongly advise that you attempt to:
Always raise the alarm
Call the Fire Brigade and warn the occupants in the area to evacuate
Extinguish a fire if it is safe
The following CERN safety-training course outlines what to do in the case of an emergency.
In case of an emergency, CERN is ensured of a quick first response by the full time Fire and Rescue Service. Our fire engine and ambulance are staffed with experienced firefighters from across Europe. In addition, this allows you to improve the fire safety management because you can call us 24 hours a day for an advice. With this advice, you have the opportunity to take part and put in place the preventive measures that are needed to minimize the risk for an emergency.
For preventive measures of CERN properties, Territorial Safety Officers (TSO) and Department Security Officers (DSO) are the key persons to contact in order to implement these.
Here below is a list to find their contact information:
We are not only here to advice CERN, you can also ask us for advice for around the home, we have also provided links to our local Fire and Rescue Services.
French Home Fire Safety Advice
Confined Spaces
There are numerous underground installations and galleries at CERN where some of them are confined space. These places have a risk of accumulation of dangerous gasses or oxygen deficit.
To prevent human danger, working within these areas is only possible with a permit and a safety check. Personnel of the CERN Fire & Rescue Service (CFRS) will perform a safety check on these confined spaces before granting permissions.
For any further question or assistance, please make an appointment via the CERN Service Desk.
Remember, if you have questions, please feel free to call or email.